Skip to Content

Meetings & Corporate Events
Graylyn International Conference Center
Intentional Meeting Spaces To Ensure Maximum Productivity
We draw on decades of event planning experience to provide personalized service and professional guidance from beginning to end. Your conference coordinator will serve as your single point of contact, helping to outline your meeting agenda, select specific venues, and arrange catering, team building, and transportation.
the mews
management house
bernard cottage
the manor house
The Mews
Originally designed as a working farm, the Gray family named this element of the estate the Mews. Today, the Mews is nothing less than magnificent with the cobblestone courtyard and the architectural features of a French cottage.
Mews Conference Room
Expansive and with French cottage-inspired interiors, the Mews Conference Room is the largest meeting space at Graylyn, making it ideal for larger gatherings of conferences.
Space Dimensions: 41' x 50', 2050 sq.ft
Mews Dining Room
For more curated conferences and meetings of up to 30 attendees, the Mews Dining Room is a charming destination.
Mews Breakout #1
A cozy and charming space for meetings and breakout sessions of up to 20 guests.
Space Dimensions: 29' x 12', 348 sq.ft
Mews Breakout #2
For breakout sessions and meetings of up to 15 attendees, this is a cozy and well-curated space for inspiration.
Space Dimensions: 22' x 17', 374 sq.ft
Mews Breakout #3
Connect in a smaller group setting in this French cottage-inspired space.
Space Dimensions: 25' x 11', 275 sq.ft
Mews Breakout #4
Fuel productivity in smaller meeting and conference sessions in this cozy and charming space.
Space Dimensions: 17' x 9', 153 sq.ft
Special Events
Whether you are having a corporate dining event, meeting with potential clients, a team retreat, or an end-of-year party, your special event is unforgettable with the stunning backdrop of Graylyn. With world-class private dining, dedicated coordinators, and wonderful accommodations, Graylyn has everything you need to create an unsurpassed experience for your special event.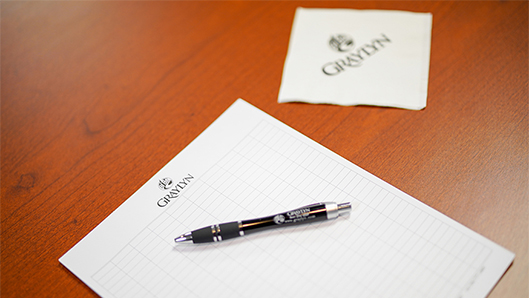 Services & Amenities At A Glance
Room blocks
Onsite team building activities
Onsite audio/visual
Variety of activities and events
Flexible meeting package for every meeting's needs
Certified Onsite Conference Coordinators
1 Gig Fiber-Supported Wi-Fi
Self-Parking